Document Actions
Freshwaters - State and impacts (SOER 2010)
Nitrates in groundwater in the Belgian regions.
Key message
High concentrations of nitrate in Belgian groundwater remains a point of concern
Figures
Figure 1 : Nitrate concentration in upper groundwater bodies in Belgium
Sources: EEA/WISE, ISC-CIE/SCALDIT, CIPM-ICBM, ICPR, IBGE-BIM, SPW-DGARNE (Survey nitrate)
Data source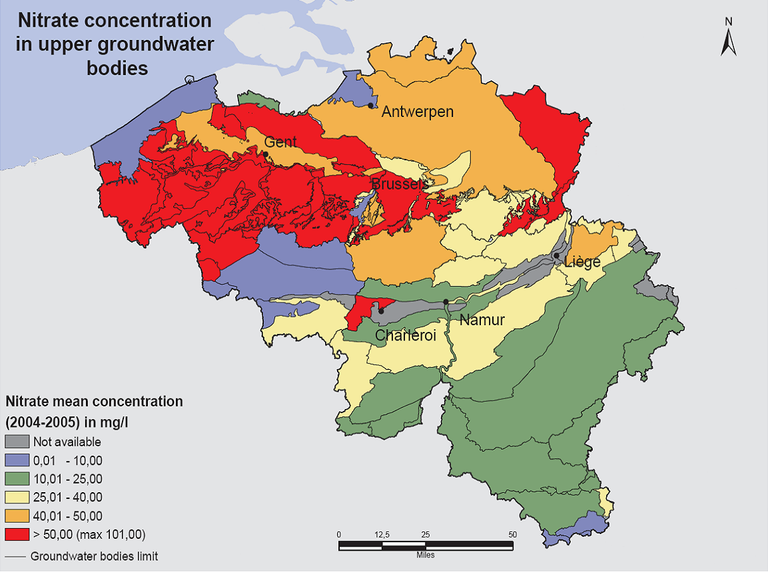 Fullscreen image
Original link
In rural areas, the degradation of groundwater quality is largely the result of excessively high concentrations of nitrate which usually appear when the amount of nitrogen fertilisers applied go beyond the needs of the crops. In urban areas, contamination of groundwater by nitrates derived mainly from the lack of sewers or leaks in the sewage network of residual urban waste water.
Generally, the highest levels of contamination (more than 50 mg NO3-/l) are observed in the northern part of Belgium (Flemish Region), especially in the less deep phreatic groundwater bodies (e.g. Quaternary sands, Tertiary Brusselian and Yperian sands, Quaternary Meuse-Rhine deposits and Terrace sediments…), in areas where agricultural activity and/or the density of population is particularly high.
Due to a change of monitoring system and monitoring practices between 2003 and 2004, no long-term trends can be determined in the three Belgian regions. For the Flemish Region, a complete new groundwater monitoring network consisting of 2.100 multi-level wells (located in agricultural areas) has been operational since 2004. For the Walloon Region, the application of the WFD required a restructuring and a redeployment of the existing groundwater monitoring network in 2006, in order to improve its representativeness by taking into account the less characterised water bodies and the non-exploited resources. The Walloon WFD network includes +/- 600 sites of control.
The nitrate concentrations in groundwater throughout Belgium have increased in recent years: the proportion of monitoring points with average nitrate concentrations higher than 25 mg/l went from 46,4 % (in 2004) to 49,8 % (over the period 2007-2008). This trend is not necessarily linked to the current development of agricultural practices, which goes towards a reduction in the application of (organic and mineral) nitrogen fertilisers. Next to the availability of external N-sources the degree of contamination of the groundwater bodies depends also on other factors such as rainfall, transfer time to aquifers, local manure, and the vulnerability of the shallow aquifers or the quantity of nitrogen still present in the soils. Groundwater bodies are 'slow-response' systems in general so that, due to the travel times of nitrate bearing infiltration water, effects of measures in shallow groundwater are visible earliest after several months, usually after years and locally after decennia.
Flemish Region

Walloon Region

Brussels Capital Region

Monitoring points

20041

20071

2004

2008

2004

2007-2008

Points sampled

1728

2031

439

615

17

24

% > 25 mg NO3/l2

45,4

48,1

50,6

55,9

41,2

37,5

% > 50 mg NO3/l3

35,7

38,2

11,1

13,8

29,4

25

1: Nitrate concentration measured in autumn

2 : Target value for (European Nitrate Directive)

3 : The European Nitrate Directive stipulates that the concentration anywhere in groundwater must not be higher than 50mg nitrate/l (norm for drinkability)

Sources : VMM (MAP- groundwater monitoring network), MIRA, IBGE-BIM, SPW-DGARNE (Survey nitrate )
Nutrients in freshwater in the Belgian regions
Key message
Quality of surface waters improved in Belgium but additional efforts are still necessary to reach the targets
Figures
Figure 2: Oxygen related pollutants and nutrients
Oxygen related pollutants and nutrients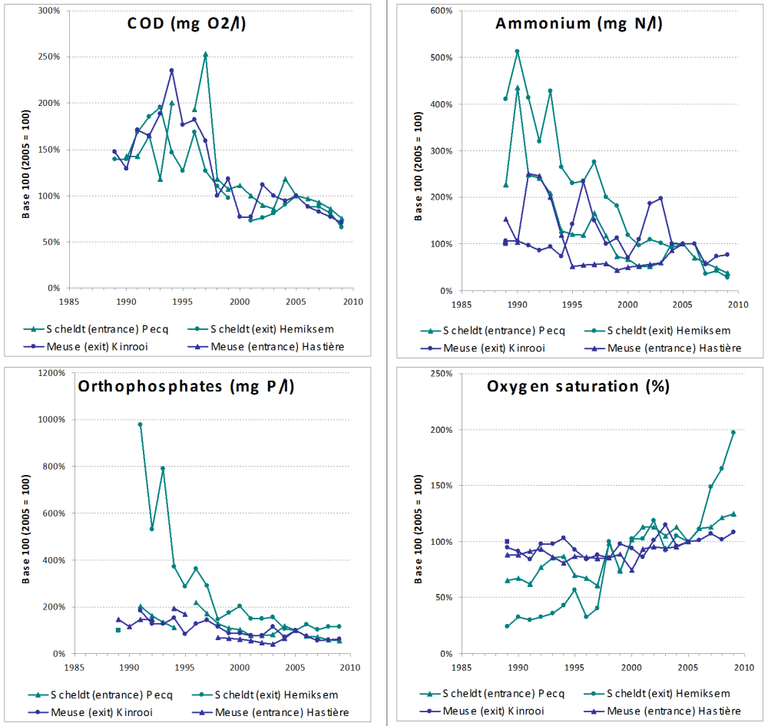 Fullscreen image
Original link
Nutrients in freshwater
Excessive discharges of nutrients (phosphorus, nitrogen, organic matter...) in fresh surface water may lead to eutrophication. This generally causes increased algae growth and less oxygen in the water, accompanied by an increased risk of mortality for some aquatic organisms. In these circumstances, many watercourses will probably not achieve the good ecological status required in 2015 by the European Water Framework Directive 2000/60/EC (WFD).
When it comes to the levels of organic matter, nitrogen (excluding nitrates), and phosphorus compounds, the situation for Belgium's surface waters has improved over the last 20 years, especially in the Scheldt river basin district (as shown in Figure 2 for the major parameters monitored in the two main watercourses (Scheldt and Meuse) at the entrance and the exit of the Belgian territory).